February 29-April 5, 2012
In addition to the research vessel Western Flyer, MBARI's R/V Zephyr—the primary support ship for MBARI's autonomous underwater vehicle (AUV) program—will also be making the journey down the Pacific coast. Along the way, MBARI's AUV team will be deploying the mapping AUV, D. Allan B., in order to collect mapping data that will be used to direct the research teams' ROV diving and sampling programs. Detailed images from MBARI's AUV high-resolution surveys help scientists understand seafloor vents, geologic evolution, and geochemical history of the dynamic seafloor structures.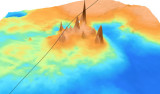 Saturday, April 7, the mapping AUV team and crew of the R/V Zephyr completed the fourth leg of their mission in the Gulf of California. We successfully conducted all four planned surveys on the Alarcon Rise.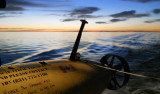 On Saturday, March 10, R/V Zephyr departed from La Paz and began mapping operations in the Sea of Cortez utilizing the autonomous underwater vehicle (AUV) D. Allen B..