Day 8: Sometimes you come up dry
After two dives in two different locations yesterday, today was our last chance to search for unusual chemical signals indicative of fluids being forced through the seafloor in the Gulf of California. This past week we had already worked at the gas venting sites that our scientists found during their 2003 expedition here, and located new sites atop volcanic mounds and along fault lines. However, just poking around randomly in the seafloor was likely to be a waste of time. So we dove the vehicle to explore the sites that our MBARI colleagues on the mapping team working concurrently here in Mexico had identified as targets.
Despite heavy winds and a rocking ship, we were able to get the remotely operated vehicle (ROV) in the water early this morning for a dive on a transform fault at the base of a big slump. For this spot, we had one of the new high-resolution maps produced with data from the D. Allan B.autonomous underwater vehicle (AUV) last week. The base of the slump was 2,240 meters (7,350 feet) deep. From there, it climbed 50 meters (164 feet) up a steep slope. At the top, the ROV flew along the ridge, and we stopped to take a couple of Raman profiles to determine if there was geochemical activity below the surface of the seafloor. The results were disappointing as there was just seawater within the sediment, and no gases of interest. The massive slump field far above had smothered the site with fine clay. The area was so dull that to make the most of our day, the ROV was recovered so we could steam to one last site just 22 kilometers (13.7 miles) away.
arly in the afternoon the vehicle was back in the water at the next site. It was also along the transform fault, although in this location we were operating off older, low-resolution maps which only gave a general sense of the area. This site had even less to offer the eager crowd watching the video monitors. Just mud as far as the ROV could see. Boring, dull, and a definite letdown. But we were there and may never be there again, so we stopped again and took some pore water profiles. These profiles, combined with the video images of this never-seen-before seafloor and the new maps will help paint a clearer picture of what lies beneath the Gulf of California waters. And where fluids are pushed up, and where they are not.
The ship has now begun steaming toward port, where this science group will pack up and depart, making way for geologist Charlie Paull and his group who will be briefed on all the findings.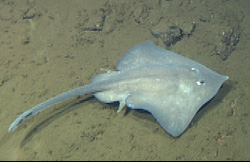 —Nancy Barr and Peter Brewer