Day 10: Over already?

A few months ago, I went to pick up a few books at the University of Rhode Island's Graduate School of Oceanography library. It's a nice, new building with a gorgeous view of the Narragansett Bay. But what caught my eye as I walked out with my new reading material (on midwater animals!) were a few monitors tucked into a hallway. They were displaying ROV video footage, and I stood watching a purple sea cucumber that was laying on the seafloor flex its body back and forth in order to propel itself into the water column. I hadn't watched footage like that on such a large, crisp monitor in a couple years, and I was blown away. All over again.
You see, with a bit of talent, a whole lot of luck, and the help of numerous people along the way, I spent my graduate career doing research with the Midwater Ecology group at MBARI. For six years, I studied the behavioral ecology of midwater squids. I still can't believe I was able to get a doctorate trying to figure out why squids that live in complete darkness release dark ink and change their body coloration, but I'm not going to ask too many questions.
So, what brings me back to the R/V Western Flyer? Squids of course! And boy, did we see some squids!
However, I was not only interested in squids this time, but also some of their smaller relatives, the pteropods. Pteropods ("wing-foot") are snails that have greatly reduced or completely lost their shells, allowing them to live their entire lives in the water column. They have modified the foot that their ancestors used to crawl along the seafloor into flapping wings that propel them through the water column, especially when a certain scuba diver tries to collect them in a jar to study them. I am interested in studying pteropods because many species are thought to have world-wide distributions. Really? Well, there is only one ocean so the water is mixing together and the plankton goes along with it, right? Well, I have a hard time picturing a centimeter-long pteropod from the Gulf of California getting all the way to Hawai'i to mate with another pteropod. There is probably some truth to both of these views. Yes, pteropods get carried around by ocean currents and probably have large, interbreeding populations, but there are likely some barriers to reproduction, though scientists have very little idea of what they are. That is part of what I am trying to find out.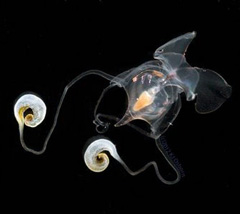 You might wonder why that is important. One environmental factor that is of great importance to a marine animal is the temperature of the water it is living in. The higher the water temperature, the higher the metabolic rate of the animal, the more food the animal has to eat. And finding food in the open ocean is often not an easy task. But there might be some species that are better able to handle higher temperatures than others. However, in order to determine whether or not this is true, we need to know whether what we currently think is one species is actually more than one or not.
Anyhow, I was quite successful in getting some pteropods for this project. We got some with the ROV and some from the trawl, but the most we collected were during today's very successful blue-water scuba dive. It's exciting, but also a little weird for me to be interested in something other than cephalopods.
When I tell people that I am going on a research cruise, I think they often only hear the word cruise. But the emphasis should be on the research work involved. The crew, ROV pilots, and scientists all put in very long days to keep the whole operation running smoothly. I commonly work 16-hour days, seven days a week, when I am at sea. Such is the life of a marine scientist. But this cruise was the kind that motivates me to be a scientist. I never forgot, but this trip helped to remind me that deep-sea animals are really, truly awesome—and that the people that I get to work with are great—and that MBARI is an amazingly unique and wonderful institute.
—Stephanie Bush
Water temperature is definitely one environmental factor that differs between Monterey Bay and the Gulf of California, but what about the oxygen minimum zone?
Looking back at the observations from MBARI's cruise to the Gulf of California in 2003 and from this past week, it is interesting to note the strong differences in the animal abundance and diversity between here and Monterey Canyon. Factors contributing to this difference may be related to the striking difference in the size of the oxygen minimum zone (OMZ). In the Gulf of California the OMZ starts relatively shallow and continues over 600 meters (from 200 to 800 meters deep), while in the Monterey Canyon this zone is only about 200 meters (between 600 to 800 meters deep). Above and below these depths diversity and abundance are notably higher than inside the OMZ.
The ROV has been recovered and we have a few hours of steaming into port to finish working up or putting away our samples from 10 ROV dive days, seven blue-water dives, eight midwater trawls, and three towed-camera deployments. We will also need to pack and clean the science labs and our staterooms to prepare the ship for the benthic biologists who will be heading out to sea on the next leg. Steve Haddock's research team will be flying back home, but the crew of the R/V Western Flyer and the pilots of the ROV Doc Ricketts have just three days in port before they head out for more adventure.
—Henk-Jan Hoving
—Kyra Schlining