Day 6: Cephalopod life history strategies

Even midwater biologists dive all the way down to the bottom sometimes. This morning we spent over an hour surveying the seafloor at 3,100 meters (10,000 feet) with the remotely operated vehicle (ROV). We collected some interesting purple enteropneusts, or acorn worms, for Karen Osborn. We even found some white ctenophores living on the bottom. They were attached to the mud with their tentacles deployed into the water. Both the acorn worm and the benthic ctenophore are undescribed species.
On the way back up to the surface, Henk-Jan Hoving took the main scientist's chair in the control room at 700 meters (2,300 feet) to search for interesting cephalopods. In less than five minutes he had spotted not one, but two specimens of the pelagic octopus, Japetella diaphana, which are rare in Monterey Bay, but we have had good luck finding them here in the Gulf of California.
From Henk-Jan Hoving: We have been having a great cruise, and as a scientist who is interested in life history strategies of pelagic cephalopods (open-ocean squids and octopuses), it has been absolutely fascinating. We have been collecting squids and octopuses that are very poorly known, and in the process we are discovering totally new aspects of their biology.
We have noted two species of cephalopods that seem to occur here more frequently than in the Monterey Canyon. One of them is the pelagic squid Planctoteuthis danae. This animal has a peculiar body morphology; it has a very long and elaborate "tail" with numerous colorful tendrils. The function of this tail is unknown, but unlike other members in this group of squids,Planctoteuthis adults retain their "tail" rather than dropping it when they grow out of their juvenile stage. We know this because on day one of the expedition we were lucky enough to collect a near-mature female and a fully mature male—both sporting elaborate tails. To our knowledge these are the largest specimens ever collected of this species.
Planctoteuthis squid are seldom seen during ROV dives in the Monterey Canyon, perhaps once a year, but we have seen at least one on every dive this cruise. We have collected six of them, and I have dissected out the statoliths, which are calcareous (chalky) structures located near the eyes that help the squid with balance and orientation. My preliminary data suggest that the increments in the statolith, like the rings in a tree, probably represent one day in their life. By counting the number of increments in the statolith, I can determine how long it takes to grow from a juvenile of 20 millimeters mantle length to an adult of 150 millimeters mantle length.
Another species that is far more abundant in the Gulf of California than in the Monterey Canyon is a pelagic octopus, Japetella diaphana. So far we have encountered several of them every day, including mature males and females, and even a female that carried an egg mass. These specimens, in combination with animals we have collected in the Monterey Canyon, will enable us to answer fundamental biological questions like how many eggs do females carry? Do they spawn all eggs at once or do they have multiple broods? How do males and females mate? How does the female fertilize her eggs?
These are critical aspects of the life history of these animals as they are semelparous (they have only one reproductive cycle in their lifetime) and finding mates in the big, dark ocean is presumably a challenge. One tactic that the female uses to overcome this problem is by storing sperm, which she can use when she is ready to spawn her eggs. The brooding of eggs in the middle of the water column decreases the chance of predation by animals from the bottom, while the animal is at the same time out of reach of deep-diving predators. Another reproductive tactic that this octopod employs is the use of bioluminescence to attract mates.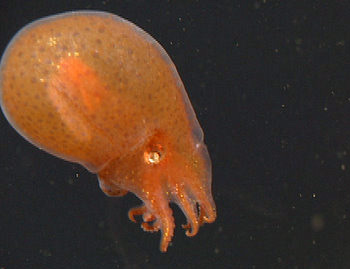 To further investigate the abundance and diversity of midwater organisms, Bruce Robison's midwater ecology group is developing a new autonomous camera platform in order to record organisms without the disturbance of the bright lights and noise of remotely operated vehicles. The system consists of two deep-sea batteries powering a low-light camera that records continuous video, a recorder, and two red LED illuminators. Bait and a luminescent lure are hung in front of the camera to attract animals. The components are mounted on a frame that we deploy on the trawl wire of the A-frame on the Western Flyer and hang beneath the ship at night. We have deployed this system twice so far during this cruise.
Can you guess what animal we captured on video with the towed camera? Stay tuned to our cruise log to find out.
—Kyra Schlining