Unusual dinoflagellate dominance in Monterey Bay examined with automated imaging flow cytometry
Alexis Fischer
Ocean Sciences Department
University of California, Santa Cruz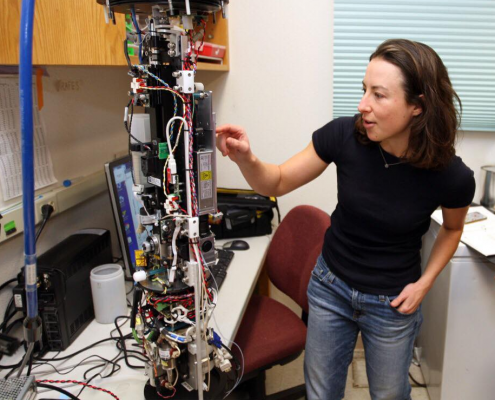 September 11, 2019
Pacific Forum—11:00 a.m.
Monterey Bay is subject to seasonal dinoflagellate blooms, many of which are harmful. These blooms were so dominant during 2004–2007 that this period was called the "age of dinoflagellates." From mid-2017 through 2019, a diversity of dinoflagellates returned to dominate the phytoplankton biomass.
To quantify bloom development at high temporal resolution, an Imaging FlowCytobot (IFCB) was deployed within the Monterey Bay upwelling shadow at Santa Cruz Municipal Wharf (SCMW). A machine learning image classifier differentiating the phytoplankton assemblage was developed and data were converted to carbon-specific biomass. Analysis of IFCB data and a 15-year SCMW timeseries suggests that both periods of dinoflagellate anomalies were linked to a negative North Pacific Gyre Oscillation and associated effects of increased surface temperature and stratification. As the climate continues to warm, periods of increased dinoflagellate dominance in the California Current System may become more common.
Next: September 18—Mara Orescanin, Naval Postgraduate School