2017 Summer Intern Profile: Ellie Handler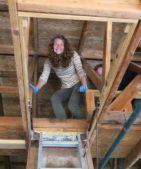 Name: Ellie Handler
Project/Mentor: Phytoplankton physiology with Kenneth Hoadley and Alexandra Worden
School: Yale University
Hometown: Woodbridge, Connecticut
Tell us about your project:  I'm working with Kenny Hoadley to study an Arctic strain of Micromonas, a eukaryotic phytoplankton. We're growing the algae under different light levels and varying nutrient conditions to see how it responds to environmental changes.
Why did you want to intern for MBARI: I was the kid in my elementary school who read all of the books the library had on whales. I wanted to be a marine biologist and "follow the whales on a boat." I lost track of marine biology as an actual career somewhere in high school, but in college I was exposed to people who got to study the ocean all the time! Alex gave a talk about phytoplankton at Yale last year, and I didn't stop talking about it for weeks. Phytoplankton seemed like the perfect combination of things I love: the ocean, plants, and tiny organisms!
What's been your favorite part of MBARI so far: I've loved just being at MBARI and hearing about all of the amazing projects everyone's working on. There's such a variety of research topics and methods to study the ocean at MBARI, and everyone is so passionate about their work. Getting to feed the giant tuna at the aquarium was an incredible experience as well!
And, if you had a boat, what would you name it? The S/V Ondine
Meet the rest of MBARI's 2017 Summer Interns