Isabel Anne Gaoteote Halatuituia
Education Coordinator/IT Specialist, NOAA's National Marine Sanctuary of American Samoa (NMSAS)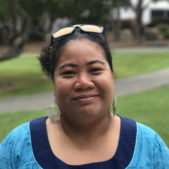 Isabel Anne Gaoteote Halatuituia is from American Samoa, with NOAA's National Marine Sanctuary of American Samoa (NMSAS)as the Education Coordinator/IT Specialist. Prior to that, she worked for American Samoa Department of Education (ASDOE) as a Resource Specialist/Special Education Teacher for 10 years. She holds a Bachelor Degree in Elementary Education from the University of Hawaii, and is certified in more than 5 other special fields in Special Education. Her greatest passion is helping and working with people, especially children of all ages. She plans on returning to ASDOE or even become a leader for the American Samoa local government.
Contact info: isabel.gaoteote@noaa.gov
---
Shannon Bertilacci
Education Specialist, Monterey Bay Aquarium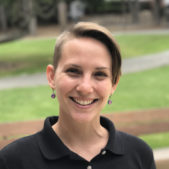 Shannon is an Education Specialist at the Monterey Bay Aquarium, where she works with Teacher and School Programs. Shannon grew up in Hawaii, where she learned to swim before she could walk. She holds degrees in Biochemistry, Sociology and Education. During her teaching career, Shannon taught Biology, Chemistry, Forensic Science, Marine Biology, Sociology, and in self-contained elementary classrooms. Additionally, she has her dive master certification, and is a volunteer diver with several science institutions. Shannon is especially interested in social justice education, loves being outside, in the water, traveling, and spending time with her dogs.
Contact info: sbertilacci@mbayaq.org
---
Tamara

Greenstone-Alefaio

Conservation Program Manager, Micronesia Conservation Trust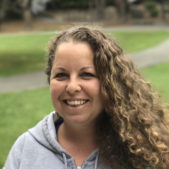 Originally from Vancouver, Canada, Tamara spent 12 years in the Marshall Islands where she was a WorldTeach volunteer teacher on Mejit Island (2004-2005), the Field Director for WorldTeach (2006-2008), an adjunct lecturer in anthropology and psychology at the College of the Marshall Islands (2009) and the Manager for Continuing and Community Education at the University of the South Pacific, Marshall Islands Campus (2009-2014). Between 2014 -2016, Tamara continued to engage as a consultant for USP implementing community projects and capacity building programs for youth leadership on climate change and conservation in the region.
In July 2016, Tamara moved to the Federated States of Micronesia (FSM) where she is the Conservation Program Manager for the Micronesia Conservation Trust. MCTs mission is to build partnerships, raise and manage funds, make grants, influence policy, and provide conservation and financing expertise for the Marshall Islands, Federated States of Micronesia, the Republic of Palau, Guam, Kiribati and the Northern Marianas.
Tamara has a Bachelor Degree in Anthropology and a Master Degree in Education, Society, Culture and Politics. Of particular interest to Tamara is how we can use education as a tool for building resilience to climate change and increased conservation practices through dialogue and leadership as well as the ever-increasing importance of maintaining culture in the context of migration.
Contact info: conservation@ourmicronesia.org
---
Selina Neirok Leem
Republic of the Marshall Islands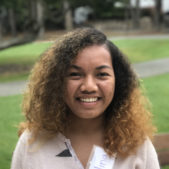 Selina Neirok Leem, an islander from the Republic of the Marshall Islands, is currently attending her last year of high school in the UWC (United World College) Robert Bosch College in Freiburg, Germany. The school is a prestigious international program that offers the International Baccalaureate Diploma. Prior to her coming to Germany, she was a student of the Marshall Islands High School.
Until she was 16 and moved to Germany, she spent her entire life on her home atoll, Majuro, also the capital of the country. She grew up with her large family; her grandparents, her parents, her uncles and aunts, her cousins, and her six siblings. Selina was influenced a lot by her grandparents who would tell her Marshallese stories and legends before she went to bed. They also emphasized the importance of education, taught her Marshallese values, and so much more.
She credits her grandfather for her deep awareness of the increasing fate of her island home through his stories about how the ice in the North Pole and South Pole were melting and would soon flood the Marshall Islands. He helped her become much more aware of her surroundings, of the fact that she was literally surrounded by water.
Coming to Germany, Selina took on the role of a climate change advocate for her country. She saw all that had happened throughout her years of living on her atoll as the changing of the climate became more prominent and wanted to share with whomever she came across. She was even more inspired when she saw that she could reach a much wider audience here in Europe in order to spread more awareness.
Representing the Marshall Islands, Selina was the youngest delegate at the COP21 in Paris. During the closing remarks, then Marshall Islands Foreign Minister Tony deBrum gave her the opportunity to give the final statement on behalf of her country. She told the world that Paris agreement, "should be the turning point in our story; a turning point for all of us."
Contact info: s.laukon@gmail.com
---
Elena Finkbeiner, Ph.D, Stanford University
Early Career Social Science Fellow, Center for Ocean Solutions
Postdoctoral Research Fellow, Hopkins Marine Station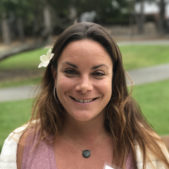 Elena Finkbeiner is an early career fellow at the Center for Ocean Solutions and a postdoctoral research fellow at Hopkins Marine Station. Her research explores how social-ecological systems can anticipate, respond, and adapt to change, and seeks to identify governance approaches that can achieve both environmental sustainability and human wellbeing. She uses small-scale fisheries as a model system for studying these processes.
Contact info: elenamf@stanford.edu