Chris Romsos
Datapresence Systems Engineer (RCRV)
OSU College of Earth, Ocean, and Atmospheric Sciences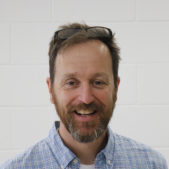 Chris Romsos is the Datapresence Systems Engineer for the Regional Class Research Vessel Project at Oregon State Univeristy, Corvallis. Originally from the east coast, Chris arrived at the College of Earth, Ocean, and Atmospheric Sciences in September of 2000 as a Marine Resource Management graduate student.  After grad school Chris worked for the Active Tectonics and Seafloor Mapping Lab conducting research on and mapping West Coast Groundfish habitat.  In his current position with the RCRV Program, Chris leads a small team that is actively developing an system for enabling shoreside access to real-time shipboard data.
cromsos AT coas.oregonstate.edu
---
Craig Risien
Senior Faculty Research Assistant II – OOI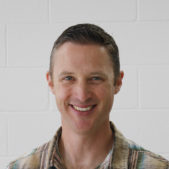 Craig Risien received his M.S. in Oceanography from the University of Cape Town, South Africa in 2002. He moved to Corvallis, OR in 2003 to study at Oregon State University. In 2006 he graduated with a M.S. in Marine Resource Management from the College of Earth, Ocean, and Atmospheric Sciences (CEOAS). He has worked as a contractor for the South African Institute for Maritime Technology, and since 2006 has worked as a faculty research assistant at CEOAS where he focuses on developing data and information products, and operational coastal oceanography. Craig is active as an Ocean Observatories Initiative mooring technician and as a Data Management and Communication specialist for the Northwest Association of Networked Ocean Observing Systems (NANOOS).
crisien AT coas.oregonstate.edu
---
Jim Rice
OSU Marine Mammal Institute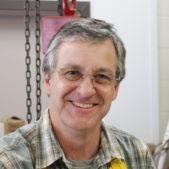 Jim Rice is the Coordinator of the Oregon Marine Mammal Stranding Network, and works with the Marine Mammal Institute of Oregon State University at the Hatfield Marine Science Center in Newport. Jim began his career as a marine mammal trainer at the Mystic Aquarium in Connecticut, and later worked as an animal keeper at the Roger Williams Park Zoo in Providence, RI, where he studied cognition in California sea lions and African elephants. He later served as a biologist with the New England Aquarium in Boston, where he coordinated marine mammal and sea turtle stranding response, oversaw husbandry and medical care to animals in rehabilitation, performed necropsies, and conducted studies of harbor porpoise habitat use of Boston Harbor. He has managed the Oregon Marine Mammal Stranding Network since October 2005.
Jim.Rice AT oregonstate.edu
---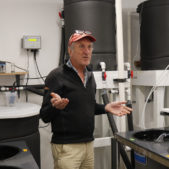 Cliff Ryer
Newport Laboratory, Fisheries Behavioral Ecology Program Manager
Alaska Fisheries Science Center
cliff.ryer AT noaa.gov
---
Rachael Orben
OSU Marine Mammal Institute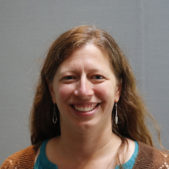 Rachael Orben is an Assistant Professor at Oregon State University in the Department of Fisheries and Wildlife. She is a marine ecologist with a background in oceanography and field ecology. Rachael is interested in how individual marine animals, typically seabirds and pinnipeds, interact with their environment through movement: from fine-scale foraging behavior to migrations. Recently, her work has taken her to Alaska, the northwest Hawaiian Islands, and the Falkland Islands. Rachael received her Ph.D. in Ocean Science from the University of California Santa Cruz. Rachael is co-PI of the Seabird Oceanography Lab based at OSU's Hatfield Marine Science Center (http://hmsc.oregonstate.edu/group/seabird-oceanography-lab).
Rachael.Orben AT oregonstate.edu
---
Leigh Torres
OSU Marine Mammal Institute
Leigh Torres is an Assistant Professor at Oregon State University where she works in the Department of Fisheries and Wildlife, the Marine Mammal Institute, and as an extension agent for Oregon Sea Grant. Leigh received her Masters of Environmental Management (2001) and PhD (2007) from Duke University, then lived and worked in New Zealand for six years before moving to Oregon in 2014. Leigh's research interests center on the spatial and behavioral ecology of marine megafauna, including cetaceans, pinnipeds, seabirds and sharks, with the primary objective to inform management and conservation efforts. When not on a boat or behind a desk, Leigh is likely hanging out with her family or playing soccer – or both together! Leigh leads the Geospatial Ecology of Marine Megafauna Laboratory (GEMM Lab) at OSU and you can read about the lab's exploits and work at their active blog: http://blogs.oregonstate.edu/gemmlab/
Leigh.Torres AT oregonstate.edu
---
Megan Bassett
MBARI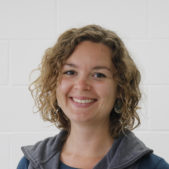 I am a Research Assistant at the Monterey Bay Aquarium Research Institute, working in the Video Lab. My educational background is in marine ecology, specifically looking at where fish live and why they live there using underwater robots. Before coming to MBARI, I worked at California State University, Monterey Bay as the outreach specialist in the Undergraduate Research office and College of Science. I coordinated a National Science Foundation Research Experiences for Undergraduates program, focused on providing opportunities for traditionally underrepresented students in STEM. While I loved working with students, and watching them blossom through research, I missed my life as a scientist. At MBARI, I'm not only back to my science roots, but also forging new partnerships with local institutions to bring more students into MBARI labs- the best of both worlds!
mbassett AT mbari.org
---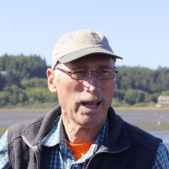 John Chapman
OSU Professor of Fisheries
John Chapman received his doctorate in evolution and population ecology. He is an adjunct faculty in the Oregon State University, Department of Fisheries and Wildlife and stationed at the Hatfield Marine Science Center.
His primary research over the last 40 years has concerned the unnatural history, biogeography and ecology of marine biological invasions in estuaries and oceans. His most recent efforts are to save the native estuary mud shrimp from an invading Asian parasite. Nearly all of John's research involves mud.
john.chapman AT oregonstate.edu
---
Dr. Charlotte Whitefield works at the Oregon Department of Fish and Wildlife as their first dedicated OAH staff member, supporting the state's newly formed OAH Council.  Charlotte recently finished up her NOAA Knauss fellowship in D.C. working for Senator Murkowski on her Oceans Caucus and Arctic Caucus initiatives, and was lead on all things OA for the Senator.  She received her Ph.D. from the University of Alaska, Fairbanks, studying sea cucumber aquaculture and the effects of dietary fatty acids on maternal investment. Previously, Charlotte received her master degree from University of New England, Maine studying hermit crab and hydroid symbiosis and its effects on hydroid zooid polymorphism.
Charlotte.m.regulawhitefield AT state.or.us
---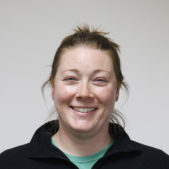 Julie Schram
Oregon Institute of Marine Biology
Dr. Julie Schram works at the Oregon Institute of Marine Biology (OIMB) – the marine field research laboratory run by the University of Oregon. Julie is a postdoctoral researcher in the newly established Coastal Trophic Ecology Laboratory headed by Assistant Professor Dr. Aaron Galloway. She completed her Ph.D research at Palmer Station (the smallest of the three U.S. run Antarctic research stations). For her Ph.D research, she studied Antarctic invertebrate responses to predicted ocean warming and acidification. Julie is currently using her experience in building ocean acidification laboratory set-ups in Antarctica to build a new ocean acidification research facility at OIMB. This new facility is part of a grant funded by Sea Grant to study juvenile Dungeness crab responses to different pH levels associated with ocean acidification.
jschram AT uoregon.edu
---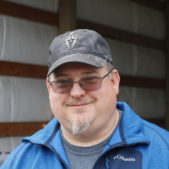 Larry Nielson
Senior Field Engineer
University of Washington Applied Physics Lab
nielson AT apl.washington.edu
---