EARTH 2018 – Participants
Ian Dickson has a bachelor's degree in biology, a postgraduate diploma in wildlife management, and a master's degree in marine science. He spent 15 years in various fields relating to biology and laboratory science before turning his efforts toward teaching. He is currently working towards his master's degree in teaching. Having been born and raised in Alaska, Ian is passionate about all things Alaskan. He believes strongly in incorporating local science, local issues, and experiential learning into his lessons. In Alaska, the opportunities are endless.
marinus.dickson AT gmail.com
---
Elizabeth Eubanks—I am currently living in Pensacola, FL with my husband Rob and two pups. I spent 18 years as a formal science classroom teacher  and for the past two years have worked  as a Lead Gardener at a Community Garden, with a primary focus of education. Since 2006 I have been very involved in Teacher Researcher Experiences (TRE) with the goal of connecting students and community to current research. This year I hosted two Satellite EARTH workshops for educators and most recently two with a similar style for students. In December and February, I will be co-chair of two Youth Poster Sessions at international conferences.
hoocaca AT yahoo.com
---
Nancy Fitzgerald has an undergraduate degree in biology, a masters in environmental science, and a doctoral degree in educational leadership. She is the teacher of an Environmental Science Academy in Northern NJ, which includes students from multiple counties around the area. At the college level she teaches climate change biology at Fairleigh Dickinson University and along with her husband each summer she teaches a conservation photography class at College of the Atlantic in Bar Harbor, Maine.  Her hobbies include, pottery, photography, hiking, and camping.
nzimbo AT me.com
---
My name is Katie Lodes and I teach at an all-girls, Catholic school in suburban St Louis, MO (next year will be #28). I'm enamored with life on our planet, and my family loves spending summers traveling to explore the wonders. I look forward to EARTH every summer. It has revolutionized my teaching. I have confidence to use real data in the classroom and to encourage my students to creatively think about the story that data tells. Of course, the real gems of EARTH are the network of teachers and scientists!
klodes AT stjosephacademy.org
---
Megan McCall—I've enjoyed teaching high school science for 16 years and have been a STEAM Coordinator for Bayside Academy for K-12 for the past two years. Last year I finally completed my PhD in Instructional Design and Development! I've been blessed to study science education in some amazing places across the globe, such as New Zealand (Fulbright), Antarctica and the Arctic (ARMADA Project). Receiving the Presidential Award for Excellence in Math and Science Teaching (PAEMST) has also been a highlight of my career! Can't wait to continue learning at MBARI EARTH this summer and work with y'all!
meganomccall AT gmail.com
---
My name is Adam Reis and I am a biology, oceanography, and renewable energies teacher at Narragansett High School in Rhode Island.  I also facilitate the Rhode Island Biological and Pharmaceutical Engineering Academy with the Chemical Engineering Department at the University of Rhode Island, which places high school students in a graduate laboratory setting where they complete and present original research .  I have been teaching science for 16 years.  Prior to education I was a research scientist with National Marine Fisheries Service in Santa Cruz, California.  I have also worked in biotech and at the Mystic Aquarium in Connecticut. Joining the EARTH community is an incredibly exciting prospect. Great purpose and great people.
areis AT nssk12.org
---
Educating for over 15 years, Stacey Sebert teaches middle school Physical and Earth Science to 7th and 8th graders. Stacey enjoys traveling and has been afforded the opportunity to travel to Magdalena Bay, Mexico with EPI and spend 18 days on a bus trip through Texas, Colorado, and New Mexico as a part of Geology Camp with Texas A&M. Stacey is a member of NSTA, STANYS, NJSTA, a Maitland Simmons Award winner, and a Master Teacher.
seberts AT scolonie.org
---
Miriam Sutton is a National Board Certified Teacher (NBCT) in Early Adolescence Science with 25 years of classroom experience. Her passion for lifelong learning is fueled by lab and field-based researcher/teacher collaborations (including four Teacher-at-Sea research cruises), as well as education/outreach experiences that develop professional development opportunities for educators and fulfill broader impact standards.
mirsutton AT gmail.com
---
I am Jillian Worssam, an 8th grade science teacher, STEM/ makerspace coach, oceanography sponsor and founder of the "Scientists in the Classroom" student/scientist mentor program. I currently reside in Flagstaff, Arizona where I am also the education chair for the Flagstaff Festival of Science. Traveling is my passion, polar science my obsession. Smarter living through science my motto!
jworssam AT fusd1.org
---
Workshop Organizers
George Matsumoto—I arrived at MBARI in December 1996 after three years teaching marine biology at Flinders University of South Australia. Together with my wife and our sons Daniel and Kevin, we have made Monterey our home.
As the senior education and research specialist, my role involves several different projects: seminar coordinator, summer internship coordinator, distance education, links between the research institute and other partners, and other projects that I haven't begun yet. Please see our educational resources page for links.
mage AT mbari.org
---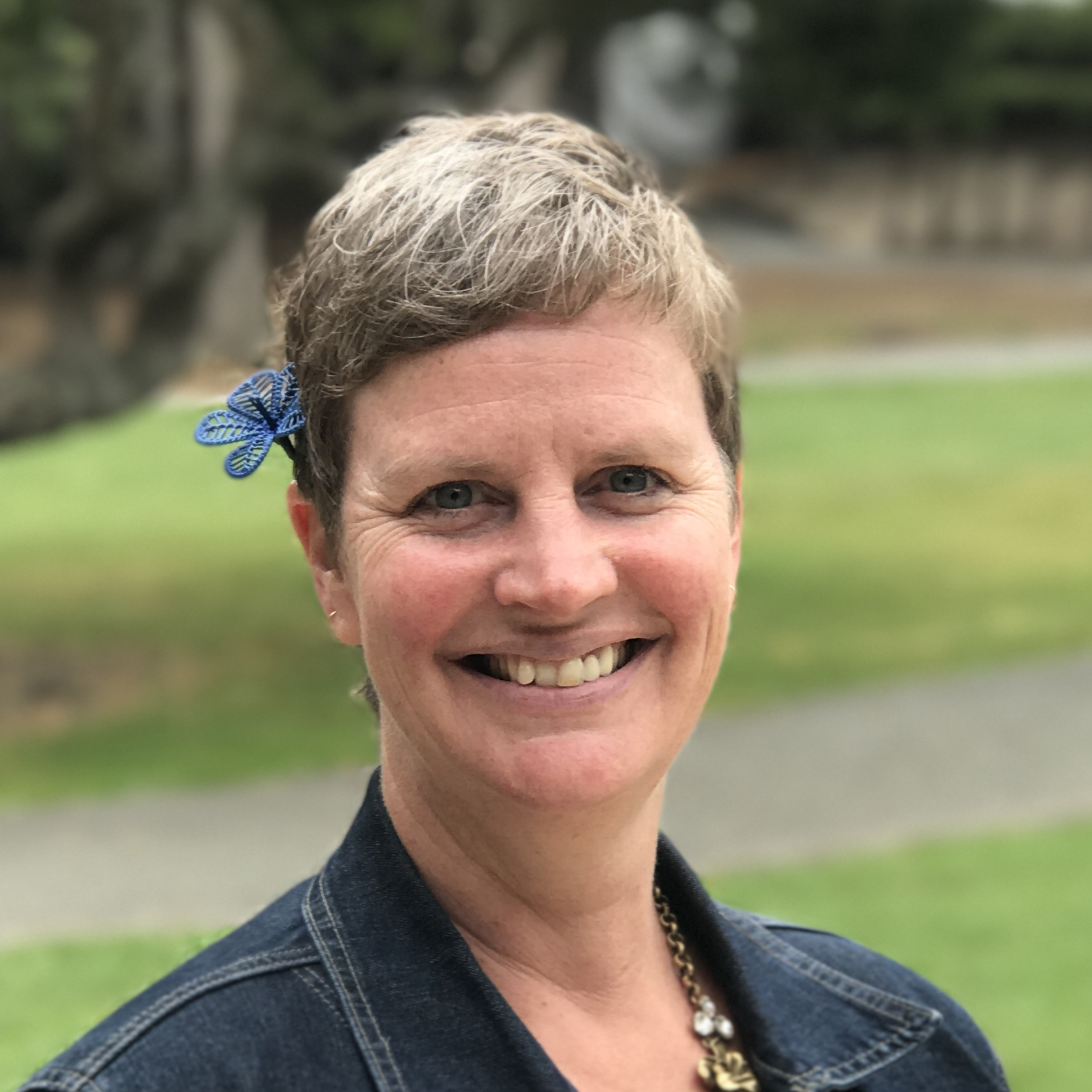 Jennifer Magnusson—Jennifer has been the EARTH Webmaster since its inception in 2003, when she was an intern at MBARI. She has a background in marine science,  education, and graphic design, and enjoys projects that incorporate all of these aspects. She has always loved the ocean and has lived in California, Maine, Alaska, Washington and British Columbia, has taught Oceanography on board a schooner in the Caribbean, and has participated in two research cruises in the mid-Atlantic ocean: as a graduate student on the R/V Knorr with the ROV JASON, and as the onboard education officer on the JOIDES Resolution.
earth AT mbari.org