Oscar Schofield, Rutgers University
Professor and Department Chair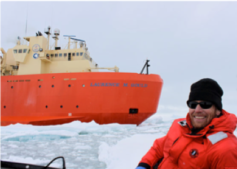 I am a biological oceanographer interested how the physics and chemistry regulates ocean ecosystems, with a primary research focus on the physiology and ecology of phytoplankton. My research is conducted in a range of oceans from the rapidly warming/melting along the West Antarctic Peninsula to sustained studies along the northeast United States. Additionally I am part of the Center of Ocean Observing Leadership (COOL), which is focused on developing new technologies and ocean sensor networks to better document and model the marine system. The COOL group has, and continues, to innovate a range of technologies spanning from remote sensing, radars, and autonomous underwater robotics. Our research efforts are coupled to an extensive public outreach effort focused on communicating the excitement and adventure of conducting science in the field. These outreach efforts have been anchored by extensive web services, teacher training and full length feature movies.
I grew up swimming, fishing, diving and surfing in Southern California. I decided to pursue a degree in biology and marine science and attended the University of California at Santa Barbara for my undergraduate and PhD where I conducted research on photosynthesis and environmental impacts of the Antarctic ozone hole. I then joined the Agricultural Research Service in New Orleans conducting research in aquaculture and microbial production of off-flavor metabolites before I joined Rutgers in 1995.
Contact info: oscar@marine.rutgers.edu
---
Victoria J. Hill, Old Dominion University
Research Associate Professor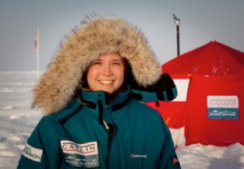 My research is focused on bio-optical oceanography, this is the study of how light behaves in natural waters and its impact on biology. By looking at the way in which light propagates through the water column as it is absorbed, and scattered we are able to investigate the biological properties of both the water column and the benthos. For example we can quantify phytoplankton abundance in the oceans which has a direct correlation with primary and secondary growth, as well and overall ocean health.
I am currently working on several diverse projects including high latitude optics and shallow water benthic remote sensing, funded by a combination of NSF and NASA support. In the Arctic I am investigating the impacts of reduced sea ice extent and overall thinning of the ice pack on warming and primary production. Using autonomous ice tethered buoys deployed in the early spring we are able to observe the under ice light field, resulting warming of surface waters and stimulation of phytoplankton growth. Closer to home we are working quantification of seagrass meadows in Florida through ocean color satellites, modeling the light limited distribution of seagrasses in the Chesapeake Bay and investigating the impacts of increased temperature and aqueous CO2 on seagrass growth.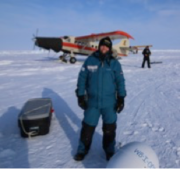 Outreach is an important component of my research program and I am a founding member of Science Alliance Live, which strives to connect scientific research to local communities through the arts. Highlights of our program include hands-on science activities for the whole family, staged readings of two new plays about scientific research at ODU, puppets, snow cones, and live music. http://sciencealliancelive.org/. You can learn more about my research here:
http://sites.wp.odu.edu/BORG/ and here is a BBC documentary on my Arctic fieldwork in 2011.
Contact info: VHill@odu.edu
---
Travis Miles, Rutgers University
Assistant Research Professor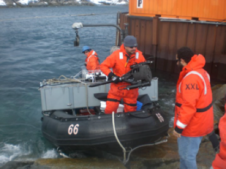 I am a physical oceanographer interested in understanding how the atmosphere, cryosphere, earth, and ecosystems connect through the ocean across a broad range of temporal and spatial scales. To understand these connections I use and develop ocean observation networks that sample across spatial and temporal scales in combination with process oriented numerical modeling. I am involved with an array of multi-disciplinary projects that involve: 1) Rapid response Teledyne-Webb Slocum glider deployments ahead of coastal storms; 2) investigation of the ice-ocean interactions in the Amundsen Sea and 3) development of novel satellite products in support of wind resource estimates for coastal New Jersey.
I received my B.S. in Marine science and Meteorology from North Carolina State University (NCSU) in 2007. In 2009 I completed a Master's in Physical Oceanography also at NCSU under the direction of Professor Ruoying He. I received my PhD from Rutgers University in 2014 studying sediment resuspension and transport during Nor'easters and Hurricanes, specifically Sandy in 2012. I am currently an Assistant Research Professor in the Rutgers University Center for Ocean Observing Leadership (RUCOOL).
Contact info: tnmiles@marine.rutgers.edu
---
Adam N. Wlostowski, Institute of Arctic and Alpine Research
University of Colorado, Boulder
Ph.D. Researcher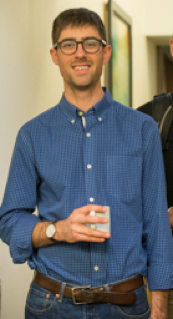 Adam is a PhD student, advised by Dr. Michael N. Gooseff, at the University of Colorado, Boulder and works as a research assistant at the Institute of Arctic and Alpine Research. Adam researches the interactions between hydrologic systems and ecosystems, in the context of surface water – groundwater exchange and land-atmosphere interactions, in the McMurdo Dry Valleys (MDVs) of Antarctica. Conceptualizes the MDVs as an outdoor laboratory, Adam uses field observations and mathematical modeling to study basic interactions between abiotic and biotic systems. Adam has spent four field seasons in the MDVs working as a member of the McMurdo Dry Valleys Long Term Ecological Research project. Adam is an active member of the American Geophysical Union Hydrology Section, serving as a member of the Hydrology Section Student Subcommittee. Living in Boulder Colorado, Adam enjoys trout fishing, bicycling, and hiking in his free time.
Resources:
Contact info: adam.wlostowski@colorado.edu
---
Dr. Robert Key, Princeton University
Research Oceanographer
Robert M. Key, Research Oceanographer at Princeton University, has been heavily involved with large scale biogeochemical and tracer observation programs since 1980, including the U.S. sponsored Transient Tracers in the Ocean (TTO), South Atlantic Ventilation Experiment (SAVE), World Ocean Circulation Experiment (WOCE), Joint Ocean Global Ocean Flux Study (JGOFS) and, most recently, Climate Variability and Predictability (CLIVAR) programs as well as the international North Pacific Marine Science Organization (PICES) and the European Union CarboOcean and CarboChange programs. He played a very active role in bothsample measurement and data organization, collection and analysis. Measurement activities included U/Th species during the 1980s, radiocarbon during the 1990s and 2000s, in collaboration with National Ocean Sciences Accelerator Mass Spectrometer facility at WHOI, and open ocean carbon system measurements during WOCE. As a data coordinator he led the effort to produce the first global scale open ocean database suitable for biogeochemical investigations (Global Ocean Data Analysis Project, GLODAP), the E.U. follow-up (Carbon in the North Atlantic, CARINA) and participated in the Japanese led PACIFICA construction. Current efforts include production of the next version of GLODAP. Research areas include anthropogenic carbon, large scale ocean circulation and ventilation, decadal climate change and biogeochemical investigations at large spatial scale.
Contact info: key@princeton.edu
---