2017 Summer Intern Profile: Diego Sancho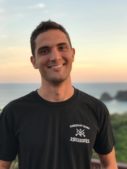 Name: Diego Sancho
Project/Mentor:  Comparing the physical features recorded by instruments on three biological oceanography moorings in Monterey Bay with Francisco Chavez
School: Stanford University
Hometown: San Jose, Costa Rica
Tell us about your project:  I am analyzing datasets from the OA1, OA2 and M1 moorings used by the Biological Oceanography Group. Most of my work is in MATLAB, writing and running different scripts to visualize these data, run statistical analyses, and filter noise. The goal is to be able to compare the responses we observe in each mooring's data to each other and the oceanographic characteristics in which they are found—whether near an upwelling source, in Monterey Bay, or near the Monterey Canyon.
Why did you want to intern for MBARI: I came to tour MBARI for one of my classes at Hopkins Marine Station two springs ago and I was blown away by the work that was being done, and the beautiful scenery it is surrounded by. I first heard about the summer internship that day, too, as George Matsumoto was the tour leader and told us about it. From then I knew I wanted to spend a summer here. I think knowing the area also made it very convenient to come back, so I'm stoked to be here.
What's been your favorite part of MBARI so far: My favorite part so far has been walking around and constantly being surrounded by scientists who are very passionate about their work and are willing to tell you about it. I think it's very enriching and it definitely gives MBARI the feel of being an institution where big things happen. I am most looking forward to having a full grasp on the details of my project, and being able to come up with interesting ways to communicate what I'm finding. I am also going on a dive to one of the moorings I'm looking at for regularly scheduled maintenance, which I am super excited about.
And, if you had a boat, what would you name it? La Tortuga
Meet the rest of MBARI's 2017 Summer Interns