Carnegie Institution for Science
Quantifying benthic calcification rates using boundary layer techniques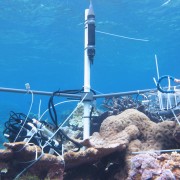 Wednesday, December 9, 2015
Pacific Forum—11:00 a.m.
Coral reefs are a highly dynamic system, where large variability in environmental conditions (e.g. pH and light) occurs on timescales of minutes to hours. Yet, techniques that are capable of monitoring net reef calcification rates (Gnet) without artificial confinement on the same frequency are scarce. Here, I will present a novel approach to measure Gnet by utilizing autonomous pH sensing technology in the benthic boundary layer. The Benthic Ecosystem and Acidification Monitoring System (BEAMS) is capable of constraining Gnet to 3 mmol CaCO3 m-2hr-1 on timescales of tens of minutes under undisturbed natural conditions. A two week time series of Gnet from a reef terrace from Palmrya Atoll will be presented, and the environmental controls on the metabolism rates will be discussed. To conclude the talk, development efforts and preliminary deployment of a pH eddy covariance system, an alternative approach of quantifying Gnet using high frequency pH measurements in the boundary layer, will be presented.