Founding Director of Marine Life Studies and the Whale Entanglement Team (WET)
Saving whales – one at a time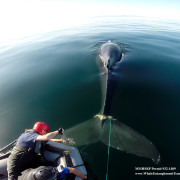 Wednesday, December 2, 2015
Pacific Forum—11:00 a.m.
Entanglement in fishing gear and marine debris is becoming a threat to marine organisms worldwide. The number of entangled whales reported in the Monterey Bay National Marine Sanctuary and statewide has increased significantly. As of September 30, 2015 we have had 21 confirmed entanglement reports with 20 of them in the Monterey Bay National Marine Sanctuary. The Whale Entanglement Team (WET) was founded by Peggy Stap and Mary Whitney (also founding Director of Fluke Foundation). In August 2015, WET was featured on the PBS/BBC Big Blue Live; a three-part live television event. This seminar will present a discussion of some of the rescues and provide an inside look into how our highly trained team uses specialized equipment to rescue whales from potentially life-threatening entanglements. We are fortunate to have this work conducted under various authorities including the Endangered Species Act/Marine Mammal Protection Act with a permit issued to the Marine Mammal Health and Stranding Response Program.