2017 Summer Intern Profile: Danielle Fabian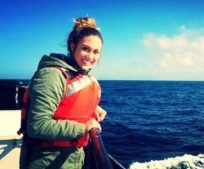 Name: Danielle Fabian
Project/Mentor: Master's thesis—Pelagic larvae time series assessment with Ken Smith
School: California State University, Monterey Bay
Hometown: Oklahoma City, Oklahoma
Tell us about your project: My thesis involves assessing relationships between certain highly abundant groundfish species with pelagic larvae, their different life stages, and climate variation over time. Macruids and Pacific hake, as well as other species deemed important to fisheries, will be incorporated into our analyses. The data used in the analysis will be obtained through the mining of all available databases, such as MBARI, California Cooperative Oceanic Fisheries Investigations (CalCOFI), and Northwest Fisheries Science Center (NWFSC). Larval, juvenile, and adult data for each species are being collected and will be analyzed to see if there are any patterns occurring among the different age classes and larvae, as well as between the fish and climate indices.
Why did you want to intern for MBARI: Ever since I was little, I dreamed about working at a place like MBARI. I moved all the way from Oklahoma to pursue marine science, and when I learned about MBARI I knew without hesitation that I needed to apply for the internship. I was an intern last year as well, which allowed me to be a collaborator for the past year. Aside from just loving MBARI in general, I wanted to apply for the returning internship because it would allow me to be an MBARI collaborator for another year, which is necessary for my thesis project.
What's been your favorite part of MBARI so far: There are too many favorites! I love going on the research cruises and getting to watch ROV footage. I also love the fact that the building is literally on the beach… It doesn't get much better than that!  I am looking forward to continuing my thesis research at MBARI and getting to know the staff better over time.
And, if you had a boat, what would you name it? The Purple Mermaid or Positive Latitude
Meet the rest of MBARI's 2017 Summer Interns