2017 Summer Intern Profile: Daniel De León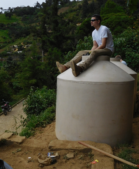 Name: Daniel De León
Project/Mentor: Classifying whale calls using machine learning with John Ryan & Danelle Cline
School: California Polytechnic, San Luis Obispo
Hometown: Santa Cruz, California
Tell us about your project:  I am working on a creating a machine learning algorithm that will be able to classify blue and fin whale calls from the hydrophone connected to the Monterey Accelerated Research System (MARS).
Why did you want to intern for MBARI: Growing up, seeing the reflection of light coming from the moon and stars on the surface of the ocean had me always wondering what kind of cosmos might dwell beneath. My fascination with the frontier of the deep sea coupled with my excitement towards electrical and software engineering made the MBARI internship a dream come true.
What's been your favorite part of MBARI so far: How friendly and welcoming all of the staff has been. It's an incredible and diverse community of scientists and engineers that collaborate together to investigate the behavior of the world for the bettering of human and animal life. I am looking forward to going to work every morning. I am really grateful to be a part of this talented group of individuals.
And, if you had a boat, what would you name it? La Guadalupana
Meet the rest of MBARI's 2017 Summer Interns