Integration of Arctic seafloor observatories
and 4D seismic: Detecting fluid migration
pathways from the deep
Jurgen Mienert
Centre for Arctic Gas Hydrate, Environment and Climate (CAGE),
University of Tromso – The Arctic University of Norway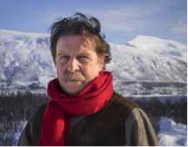 Wednesday, August 16, 2017
Pacific Forum—11:00 a.m.
Vast amounts of the greenhouse gas methane are stored under the ocean floor as ice-like, crystalline compounds called hydrates. These naturally occurring structures form under high pressure and in low temperatures, when water molecules encage and stabilize gases. These hydrocarbon gases originate from thermogenic sources deep below the ocean floor and/or from biogenic shallow sources. The Arctic holds vast undiscovered reserves of hydrates with mixtures of thermogenic and biogenic methane. The last deglaciation some 16,000 years ago and today's ocean warming cause them to melt and release methane from—for example—craters of the ocean floor (see above illustration).
The most dominant forces to have ever affected the Arctic are the growth and collapse of the ice sheets in the northern hemisphere and the recent climate change. Obviously, we cannot observe firsthand the natural world of the prehistoric past. However, we do have high-resolution seismic, as well as seafloor, observations, and well-constrained numerical modelling. Using this technology, we have been able to see into sub-seabed fluid migration and seabed-fluid expulsion systems. Deep hydrocarbon reservoirs exist today beneath the pressures of the ice sheets in Greenland and Antarctica. Signs of instability and fluid migration may become commonplace under scenarios of fast ice retreat.
Next: August 23, Shriram Ramanathan