Marine Operations Technicians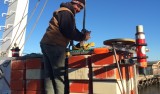 Our technicians assist in the success of MBARI's marine operations, science, and engineering goals. They design, maintain and assemble the gear requested for science missions, including hydrographic and ROV-based equipment. They also support instruments such as CTDs and rosettes, homer beacons, and coring and sampling equipment (such as detritus samplers, suction carousels, water samplers.) Additionally, they provide support in the planning, design and fabrication of new tools and electronic devices in support of MBARI's scientific goals.
Contacts:
Mike Conway – Assists in the development and fabrication of new devices for ROV-based experiments and benthic elevators.
Erich Rienecker – Institute CTD operations and maintenance, and homer beacon use.
Dave French – Electronic instruments.
Eric Fitzgerald – Dock foreman. Provides crane services, maintains the MBARI dock, provides vessel and ROV support, and monitors small boats.