Scientists are required to supply two rubber stoppers for each push core to replace both the top and bottom stoppers. The original rubber stoppers supplied by DMO need to be returned to the Marine Operations Technicians (MOTs) promptly so they can be reused. Rubber stoppers (size 13.5) are available from Fisher Scientific.
When the ROV has been recovered and is safely back on deck, the scientist should remove the top and bottom stoppers (handle and quiver stoppers) and replace them with the new stoppers supplied by the scientist.
The handles and quiver stoppers should then be placed back into the quiver tubes so that the MOTs can prepare the pushcores for the next user.
A supply of push core spare parts and emergency supplies of solid stoppers will continue to be stocked on the R/V Rachel Carson (science van) and R/V Western Flyer (moon pool).
Please "mark" or "tag" any defective push cores so the MOTs know what needs to be repaired. (See marking and tagging supplies in the spares box.)
Used push core tubes should be returned to the MOT shop promptly so the tubes can be re-used. The MOTs will maintain a small inventory of tubes, and will have new tubes made as needed.
Please direct any further questions about push cores to a Marine Operations technician.
Push core description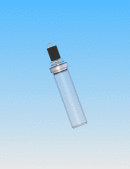 Push cores are made of a removable clear poly carbonate tube that is used to collect sediment samples. Each tube is 7.5 cm in diameter and 30 cm long, and can collect up to 20 cm of sediment per tube.
The clear tube is attached to a handle assembly which includes:
A rubber cylindrical handle that is grasped by the ROV manipulator.
A plastic retaining ring with a stainless steel hose clamp that attaches the handle assembly to the plastic push core tube. Just below the rubber handle is a device that allows water to escape as the core is inserted into the sediment, and can then be closed to help retain the sediment sample as the core is removed.
"Stab" pins further ensure the closure of the vent holes. (See illustrations below of "stab" open and closed.)