Midwater Ecology 2015 Expedition
Chief Scientist Bruce Robison
August 7-14, 2015
On August 7, the R/V Western Flyer headed to sea for a seven-day expedition with the Midwater Ecology research group, led by Bruce Robison. During this expedition, they plan to deploy the Midwater Respirometry System, conduct midwater transects, collect specimens for lab studies and for exhibit at Monterey Bay Aquarium, make in situ observations, and jig or trawl for squid at night. They also plan to deploy a small remotely operated vehicle (MiniROV) for shallow transecting and in situ observations.
Cruise wrap-up
August 14, 2015
The scientists, ROV pilots, and hard-working crew have completed another successful research expedition aboard the R/V Western Flyer. We tested and employed some exciting new imaging technology, collected critical samples for ongoing projects, answered many important questions, but in the process stimulated many, many more. The next MBARI midwater lab expedition will be in December so stay tuned.
Cephalo-palooza
August 14, 2015
This week we have been lucky enough to see representatives of three major cephalopod groups: octopus, squid, and vampire squid! Two gelatinous octopuses from the very deep sea (one observed at 2.6 kilometers below the surface)—one of them essentially blind, a unique character among cephalopods—two vampire squid, and five species of squid, most of them transparent with a range of beautiful light organs, have all delighted the cephalopod enthusiasts on this cruise. Research on these animals will cover a wide range of topics from their position in the food web, to vision and other sensory capabilities, ink usage in the deep sea, and much more. Eight thumbs up (plus two tentacles, or sensory filaments)!
The eyes of the "glass" squid, Taonius are relatively enormous and also iridescent. They glow with strange and spectacular-looking light organs. The reliance these animals seem to have on visual cues within such a light-deprived environment is intriguing, and there appear to be several mechanisms by which deep-sea squid maintain good vision. 
MBARI collaborator Kat Bolstad is a senior lecturer at the Institute for Applied Ecology New Zealand at the Auckland University of Technology, where she leads a cephalopod research group (ALCES), focusing largely on systematics of deep-water Pacific species. She is also interested in ecology of and vision in deep-water squids, and is a science moderator on the cephalopod enthusiast website www.tonmo.com. The shriveled, colorless, preserved museum specimens Kat works with back in her lab in Auckland bear very little resemblance to what we're seeing out here, so she has been very busy photo documenting live samples.
Duke graduate student Katie Thomas is collecting specimens of the strawberry squid, Histioteuthis heteropsis. Histioteuthids are known for their strange dimorphic eyes, as the right eye is enlarged and can be up to twice the size of the left eye. Katie is studying the visual system of these "cock-eyed" squids. Watch a video about the strawberry squid.
Midwater Respirometry System
August 13, 2015
The Midwater Respirometry System (MRS) is a tool designed by scientists and engineers at MBARI to measure in situ respiration rates of midwater organisms. Midwater biologists on this cruise filled six of the MRS chambers with the siphonophore, Nanomia bijuga, and left two chambers empty as controls. They hung the MRS on a docking station at 240 meters. They will return in 24 hours to retrieve it and download the metabolic information from the siphonophores. Throughout the operation they were photobombed by numerous Doryteuthis opalescens that were attracted to the lights on the ROV Doc Ricketts!
Testing the DeepPIV instrument
August 12, 2015
MBARI Postdoctoral Fellow Kakani Katija and Engineer Dale Graves have been very successful using a new piece of technology, the DeepPIV (Particle Image Velocimetry) to learn more about midwater animals. The DeepPIV instrument consists of a laser and optics that can illuminate "slices" through transparent animals (in this case, giant larvaceans) using a single plane of light. By analyzing video from the MiniROV's high-definition camera, Kakani can quantify the flow of water in and around larvaceans' bodies, and discover details about the gelatinous structures that larvaceans use to filter particles from the water around them.
Past research by Bruce Robison's team has found that larvaceans are a key component to the carbon cycle in the ocean. There is no sunlight in the deep sea, therefore, no plants. Deep-sea animals must either eat their neighbors or feed on particulate matter (marine snow) that drifts down from the shallow waters above. A significant amount of falling marine snow particles are filtered through larvacean houses, where they are aggregated, and eventually discarded. This process enables very rapid carbon flux to the deep seafloor.
Medusae with polyps attached
August 11, 2015
We observed and collected three medusae, Mitrocoma cellularia, with tiny polyps attached to them. A polyp is the juvenile stage in a jellyfish life cycle. Typically we see polyps attached to rocks or other solid bottoms areas on the seafloor. The midwater habitat has no hard surfaces, aside from other living beings, so some animals have gotten creative. The polyps were attached at their mouths, so we assume they are parasitic on the medusae. Like a truck stop in the deep sea the mature jellyfish provides a place for the polyps to rest and fuel up. We still have so much to learn about these midwater jellies that spend their entire lives far from the seafloor. How many progress through their polyp stage by parasitizing other jellies? How many just skip the polyp stage completely?
For more information on the jellyfish life cycle see: http://shapeoflife.org/vid…/cnidarians-moon-jelly-life-cycle.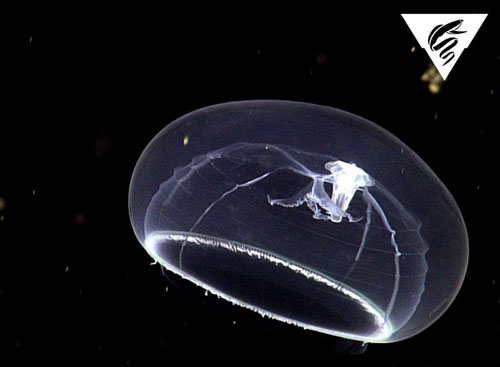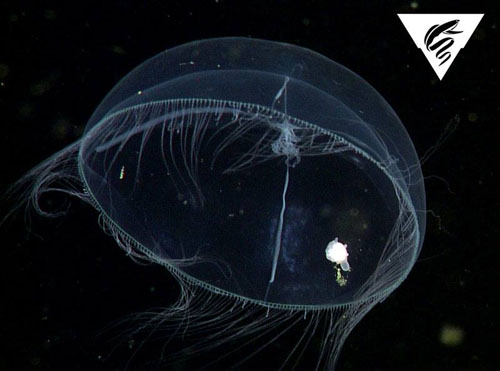 Cirrate octopus
August 10, 2015
This rarely observed cirrate octopus, Cirrothauma murrayi, was encountered at 2,600 meters deep in the Monterey Canyon with ROV Doc Ricketts. Measuring less than a foot long, this individual was drifting with its arms and web outstretched, resembling an open umbrella. The eyes of this species are much reduced and lack a lens, so while they are still capable of detecting the presence or absence of light, they are unable to form an image.
First day at sea
August 7, 2015
Katie Thomas, previously a summer intern at MBARI, snapped a few photos while heading out to sea on the R/V Western Flyer.