Biodiversity and Biooptics 2015 Expedition
Chief Scientist Steve Haddock
July 7-14, 2015
Steve Haddock's research group and their collaborators study deep-sea gelatinous zooplankton (various types of jelly-like animals). Haddock's research focuses on bioluminescence, biodiversity, and ecology of deep-sea and open-ocean ctenophores, siphonophores, radiolarians, and medusae. In addition to studying the evolutionary relationships of these animals, Haddock is interested in cloning the proteins that enable these jellies to emit light or fluoresce.
On this expedition, researchers will collect gelatinous organisms, emphasizing depths beyond 1,500 meters. Remotely operated vehicle (ROV) dives with Doc Ricketts will be supplemented by blue water scuba diving.
Vampire squid
July 13, 2015
The vampire squid Vampyroteuthis infernalis is one of the most iconic animals in the deep sea. While there are many things that make it remarkable, the Biodiversity and Biooptics Group is interested in its ability to create light. It has several types of light organs on its body and at the tips of its arms.
The vampire squid is neither a squid nor an octopus. It is the only living member of the cephalopod order Vampyromorpha which gave rise to both squids and octopuses. Vampire squids are often found in the oxygen minimum zone, an area ranging from 500 to 700 meters deep (in Monterey Bay), which is very low in dissolved oxygen and thus hosts very little life within its boundaries.
Fluorescence
July 12, 2015
The squid Stigmatoteuthis dofleini (pictured below) was caught by ROV Doc Ricketts yesterday so we could study its fluorescence capabilities as well as its large eye, which is unique to this family of squids. It has one normal-sized eye, and one extraordinarily large eye, which is brightly fluorescent due to a blue-absorbing fluorescent pigment. The fluorescent pigment most likely aids in capturing prey by helping the squid see past its prey's camouflage. Many organisms have fluorescent structures, but we are still exploring what the natural functions of these fluorescent pigments are.
Deep-sea jellies
July 11, 2015
Steve Haddock and his collaborators study deep-sea jellies because the many remarkable shapes, sizes, colors, and bioluminescence capabilities can help in understanding evolution in the deep sea, the chemical processes involved in bioluminescence, predator-prey interactions, and biodiversity in the deep midwater.
Barreleye fish sighting
July 10, 2015
Today we were treated to a rare sighting of a barreleye fish, Macropinna microstoma. It has only been observed with our remotely operated vehicles six times in 27 years!
Most of the time, the fish hangs motionless in the water, with its body in a horizontal position and its eyes looking upward. The green pigments in its eyes may filter out sunlight coming directly from the sea surface, helping the barreleye spot the bioluminescent glow of jellies or other animals directly overhead. When it spots prey (such as a drifting jelly), the fish rotates its eyes forward and swims upward, in feeding mode.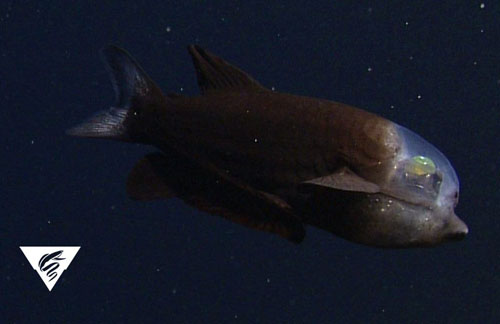 Black-footed albatross
July 9, 2015
The feet in the video below are those of a black-footed albatross, Phoebastria nigripes. It is a large seabird whose range at sea varies during the seasons. They are found throughout vast areas of the North Pacific, feeding from Alaska to California and even Japan. This video was shot by scuba diver Steve Haddock, whose team is conducting research on the Western Flyer. Today they were offshore of Big Sur.
Who's feet are those? These feet are those of a black-footed albatross, Phoebastria nigripes. It is a large seabird whose range at sea varies during the seasons. They are found throughout vast areas of the North Pacific, feeding from Alaska to California and even Japan. This video was shot by scuba diver Steve Haddock today, whose team is conducting research on the Western Flyer. Today they were offshore of Big Sur. You can follow their updates on the cruise log: https://www.mbari.org/at-sea/expeditions/biodiversity-and-biooptics-2015-expedition/

Posted by Monterey Bay Aquarium Research Institute (MBARI) on Thursday, July 9, 2015
Comb jelly
July 7, 2015
We started off the day with a blue water scuba dive to collect jellies that are too shallow for collection with the remotely operated vehicle (ROV). This comb jelly, Leucothea pulchra, was abundant at about 12 meters deep. Steve Haddock and his colleague Bill Brown had a successful blue water dive while the rest of the science team searched for deep-sea organisms using the ROV Doc Ricketts. Watch the video of the comb jelly below:
This week MBARI's biodiversity and biooptics lab is conducting research on the R/V Western Flyer. Today, they started off the day with a blue water scuba dive, to collect jellies that are too shallow for collection with the remotely operated vehicle (ROV). This comb jelly, Leucothea pulchra, was abundant at about 12 meters deep. Steve Haddock and his colleague Bill Brown had a successful blue water dive while the rest of the science team searched for deep-sea organisms using the ROV Doc Rciketts.Do you scuba dive? Report your sightings to JellyWatch! Here's the sighting of this comb jelly http://jellywatch.org/node/5602

Posted by Monterey Bay Aquarium Research Institute (MBARI) on Wednesday, July 8, 2015