ROV Dive Time Definitions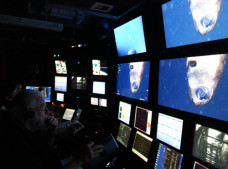 The R/V Western Flyer is primarily configured to support ROV operations, however there is a limited back deck and an A-frame that allow for auxiliary tasks.
When planning ship time for the R/V Western Flyer and ROV Doc Ricketts, keep in mind the following:
A standard ROV dive day is 12 hours from the start of the pre dive to completion of the post dive at the end of the dive day. A standard 12-hour dive day should be used for planning purposes.
An extended dive day of up to 16 hours is possible depending on the weather, equipment, and number of ROV crew, and is granted at the discretion of the Chief ROV Pilot and Master prior to departure.
A maximum science workday is 18 hours dependent upon the number of crew and at the discretion of the Chief ROV Pilot and Master.
NOTE: ROV operations over 16 hours are possible upon special request to the Marine Operations director, but will count as an extra sea day.
A workday can continue until midnight, but no operations other than vessel transits to different locations is permissible during the "off hours" of midnight to 0600.
A science day may combine over-the-side oceanographic work with ROV tasks. For example, 12 hours of ROV operations combined with 6 hours of over-the-side work.
Vessel crews are required for any back deck over-the-side work. Scientists are not allowed to work independently for launch and deployment of gear.
Planning your ship time
When planning extended cruises, please note that each leg should not exceed 11 days.
No matter which ship you choose as your platform, transit time to and from port to the operating area is charged to projects, but can be economized with careful planning.
Mobilization time should be addressed in the Shiptime Requestconsider (a) how much equipment you will need to bring on board, (b) whether you will request new or an unusual combinations of tools, and (c) whether you will have specialized shipboard computer requirements.
DMO is available to help in such planning, and will review all proposals and make recommendations. Project managers should carefully consider their requests and plan accordingly before they submit their proposal, especially in the case of cruises outside the home port where transit time, personal travel and expenses are an important factor.
Modifications of these guidelines are at the discretion of the director of Marine Operations.