Rigid Hull Inflatable Boat (RHIB) Operations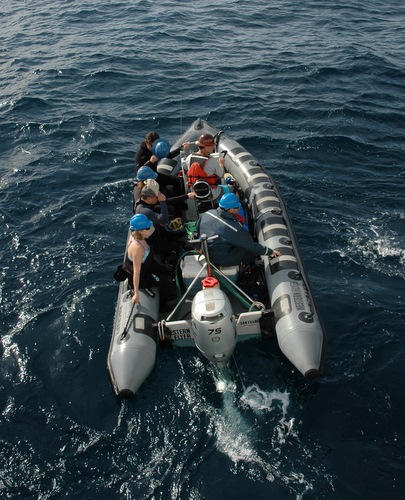 The R/V Western Flyer has a small RHIB (Rigid Hull Inflatable Boat) that should only be used for special circumstances since it impacts core vessel operations.
Due to USCG work/rest rules, RHIB runs must be completed by 1930. This schedule restriction may require early termination of ROV dive operations depending on the dive site and transfer location.
The RHIB may be used for personnel transfers in certain circumstances. Requests for personnel transfers must be submitted to the Director of Marine Operations at least two weeks prior to departure. Transfers are also weather dependent.
If boarding the R/VWestern Flyer via RHIB from MBARI, science personnel should meet at the R/V Western Flyer slip. If the transfers are after hours and the gate is locked, the RHIB operator will open the gate. It is a good idea to be at the dock 15 minutes early. The vessel officers will provide an updated time for the transfers when the ship is transiting to MBARI to make the transfer.
The RHIB can accommodate four cruise participants plus two crew.