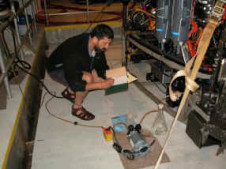 As a member of the science party, your group is responsible for bringing on board any and all equipment to be utilized during the cruise, with the exception of ROV tools, CTD, and rosette. The following checklist is suggested:
Tools or equipment for on-board analysis
Office supplies (notebooks, pens, etc)
laptop computer, disks & associated equipment
You should also have a reasonable level of understanding regarding the video systems. Additionally, please come prepared for foul weather and the cooler temperature of the ROV control rooms.
A pre-departure briefing will be given by a ship's officer concerning safety and emergency procedures, and guidelines to follow while on-board. Please give your full attention during this talk. It is also useful for the Chief Scientist to brief all personnel on the day's mission and priorities, and to describe any specialized concerns about safety or proper procedure regarding equipment and techniques unique to the operation. For more on what is expected of you while at sea, please refer to Science party guidelines for operations.
All samples, equipment and materials belonging to the science party must be removed at the end of the day for a R/V Rachel Carson cruise, or within 24 hours of the R/V Western Flyer's return to port. All laboratory areas and personal spaces should be cleaned and left in the same or better condition than found in consideration of the next user. Please consult a crew member for supplies and information.