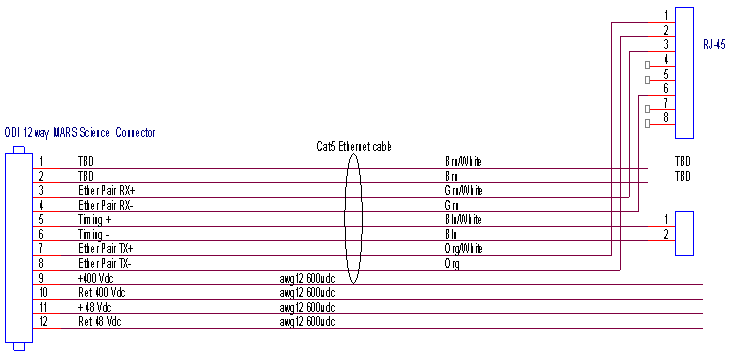 MARS consists of a single, trawl resistant node located approximately 900 meters below the sea surface at the end of a 51 km submarine cable. Extension cables allow scientists to place instruments up to 4 km away from the node.
Science Instrument Interface Modules were designed by MBARI to provide easier connection for instruments. These designs are available to MARS users.
Some details on the MARS science node are listed below.
Primary Ports
Instrument Port
Data Port
IEEE 802.3 10/100 Base-T using IP protocol.
Science Instrument Interface Modules (SIIMS) will provide Ethernet to RS232 or 422 or 485
conversion for a single item.
Power for Primary Ports: 48 VDC and 375 VDC
10 kW can be apportioned among the primary ports. Actual power available at any port will be negotiated with users and managed by the observatory.
Separate returns for 48 and 375 VDC
A maximum of 2 kW is available at 48 VDC to all ports.
SIIMS provides 48 and 375 VDC to "other," e.g., 12 VDC levels
Individual ports are monitored for over-current and ground faults.
Timing
NTP time services are provided over the primary data port with an expected accuracy of the order 10s of milliseconds.
An additional precision 1 pps clock signal is provided with an accuracy goal of 1 microsecond.