Administration and Planning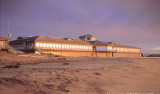 In addition to operating and maintaining three research vessels, two submersibles, and a suite of AUVs, Marine Operations also works in conjunction with and in support of all other MBARI divisions to accomplish the short and long-term goals of the institute.
Spearheading this effort is Michael Kelly, division director, along with Ian Leik, the marine operations manager. Sara Arguilla is the division administrator and Natalie Fairchild is the administrative assistant. Matt Schultz is the logistics specialist, assisting with ship scheduling and expedition planning.
The division of Marine Operations is staffed by about 40 staff members. Please see DMO people for a complete listing.
Committees which serve as communication and planning forums
Marine Advisory Committee – The purpose of the Marine Advisory Committee (MAC) is to recommend priorities for the best use of MBARI's marine assets and to provide advice to the president on issues related to marine operations. The MAC advises on the annual ship-operating schedules, is provided with updates on ship and ROV enhancements in progress, and recommends plans and procedures to ensure a high level of functionality and reliability in meeting with MBARI's research goals.
ROV Users Committee – Some general objectives of the ROV Users Committee (ROVUC) are to enhance and facilitate communication between MBARI staff on ROV issues, centralize information concerning ROV developments/upgrades, etc., and attempt resolution of ROV issues. The committee provides recommendations on ROV issues to the MBARI president and division directors.