2017 Summer Intern Profile: Ashaar Sanchez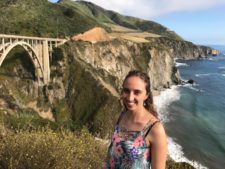 Name: Ashaar Sanchez
Project/Mentor: Analyzing krill migration with Monique Messie and Francisco Chavez
School: Rutgers State University
Hometown: New Brunswick, New Jersey
Tell us about your project: My project entails analysing in-situ data from MBARI's acoustic Doppler current profiler on station M1. What we aim to accomplish within the 10-week internship period is to characterize zooplankton, notably krill diel vertical migration patterns along the California coast. As primary consumers, krill are an essential food source for predators ranging from small pelagic fish to large marine mammals such as whales; therefore, understanding their dynamics is important when considering conservation efforts for marine resources and protecting fundamental ecosystems. The information we obtain during this research period will help our collaborators at the University of Califorina, Santa Cruz better parameterize a coupled biophysical model of zooplankton distribution.
Why did you want to intern for MBARI: Although I have many great reasons for pursuing an MBARI internship, I'd have to say the most important is David Packard's vision of integrating marine scientists and engineers which makes MBARI a unique place to be. MBARI's efforts to continuously explore the deep sea and educate the public on important ocean matters places it at the forefront of ocean research, something I value as an aspiring marine scientist. I admire and look up to the scientific community at MBARI. The work researchers do here is truly inspiring and motivating.
What's been your favorite part of MBARI so far: My favorite part has been the opportunities that MBARI has to offer to its interns. I very much enjoy learning about other people's research, going out to sea, and witnessing marine life as its happening! Being a part of the community and meeting other people with similar interests and career paths is also definitely a favorite of mine!
And, if you had a boat, what would you name it? R/V The Sea Star
Meet the rest of MBARI's 2017 Summer Interns