Unsupervised machine learning techniques for building a curious underwater exploration robot
Yogi Girdhar
Woods Hole Oceanographic Institution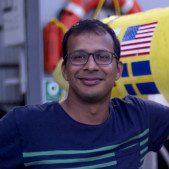 Wednesday, April 27, 2016
Pacific Forum—11:00 a.m.
The current approach to using an autonomous underwater vehicle (AUV) for data collection over a predefined path works well for computing estimates of static or slow moving events such as species density. However, it is not an ideal approach for exploring unknown environments that may contain patchy and episodic events, some of which may be previously unknown. I will discuss our ongoing efforts on building a "curious" AUV that is capable of detecting interesting and surprising events that occur underwater, and can target its data collection around these events. I will focus on the novel unsupervised machine learning techniques used to extract high level scene information from image data collected by the robot, which enables this exploration behavior. These techniques are suitable for in-situ analysis of data onboard a robot, as well as batch analysis of large existing datasets. We hypothesize that the proposed robot enables the collection of data that can simultaneously abbreviate the research process, and highlight new, objective ocean phenomena.
Next: May 4, Chuck Wilson