A Sea of Glass: Searching for the Blaschka's models in a sea at risk
Drew Harvell
Cornell University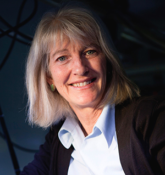 Wednesday, April 19, 2017
Pacific Forum—11:00 a.m.
A chronicle of discovery that blends glass art, science, and nature, A Sea of Glass tells the story of Drew Harvell's quest to document the conservation status of some of the oceans most charismatic marine animals, from sea slugs to octopuses. Inspired by a 150-year-old collection of Blaschka glass animals that she curates at Cornell University, Harvell dives the world's oceans to determine how their living counterparts are faring in today's beleaguered marine ecosystems. She will recount stories of some of the living matches to the Blaschka glass and their current fate, and show clips from Fragile Legacy, the award-winning video about her quest in the world's oceans. Harvell will weave in examples of her own research with ocean outbreaks and the ecosystem services of seagrass meadows.
Next: April 26, Carlie Wiener