2017 Summer Intern Profile: Alia Thompson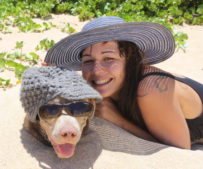 Name: Alia Thompson
Project/Mentor: Science communication with Aric Bickel at CeNCOOS
School: Syracuse University
Hometown: Aiea, HI
Tell us about your project:  One part of my project is co-running the intern blog with Emma Bueren.  My main project is using CeNCOOS resources and data to tell better stories about what CeNCOOS does.  Aspects of this include making a video about ground truthing, re-organizing and updating the HABs (harmful algal blooms) educational resources, updating the Monterey Bay HABs timeline, and utilizing augmented/mixed reality to add interactivity to the HABs impact infographic.
Why did you want to intern for MBARI: I had the privilege of visiting MBARI for a week as part of the EARTH teacher workshops some years ago. Since then, I've asked myself: "How can I work at MBARI and what can I do that helps further MBARI goals?" I thought being an intern would be a great opportunity to be able to diversify my skill-set, network, and learn more about marine science, as well as bring my knowledge and experience to help CeNCOOS with their outreach agenda.
What's been your favorite part of MBARI so far: I really enjoy working with Emma on the blog. She has a wealth of knowledge and I am learning about a different facet of communicating science that I hadn't previously considered. I didn't know I would like it so much. I am looking forward to meeting people, seeing what research and projects are going on, and creating a helpful product/resource for CeNCOOS.
And, if you had a boat, what would you name it? S/V Makali'i , which is the Hawaiian name for my favorite star constellation, known as the Pleiades.  It means "eyes of the chief."
Meet the rest of MBARI's 2017 Summer Interns