2013 David Packard Distinguished Lecturer
James R. McFarlane, OC, CD, P.Eng., FCAE
President, International Submarine Engineering, Ltd.
Genesis and metamorphosis of underwater work capability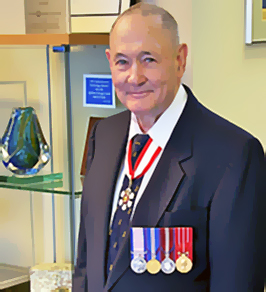 Wednesday, November 6, 2013
Pacific Forum—3:00 p.m.
The presentation starts with a quotation from Nikola Tesla who conceived an autonomous underwater vehicle (AUV) in 1898. From there, the presentation moves to the 1960's which started with Don Walsh and Jacques Piccard diving to the bottom of the Challenger Deep. Then design issues are reviewed. Designs are developed using an "nth" order polynomial. Typical components include structure, ballast, propulsion, electric power, control, navigation, manipulators, and handling. This must result in a harmonious union of parts. Weight, buoyancy, and stability must result in an appropriate orientation. A review of manned submarines, remotely operated vehicles, AUVs, and semi-submersibles follows; including their typical uses. Speculation regarding possible utility of future hybrid platforms concludes the presentation.