Bruce H. Robison
SENIOR SCIENTIST/MIDWATER ECOLOGIST
Monterey Bay Aquarium Research Institute
7700 Sandholdt Road
Moss Landing, CA 95039
Phone: (831) 775-1701
email: robr@mbari.org
After earning a B.S. from Purdue University and an M.A. from the College of William and Mary, Bruce H. Robison returned home to California and Stanford University, where he completed a Ph.D. program in 1973. He then spent two years conducting post doctoral research on deep sea fishes at the Woods Hole Oceanographic Institution, before accepting a position at the University of California, Santa Barbara. In 1987 he joined the newly-formed Monterey Bay Aquarium Research Institute (MBARI), where he is presently a Senior Scientist.
Robison's research interests are centered on the biology and ecology of deep-sea animals, particularly those which inhabit the oceanic water column. He has pioneered in the use of undersea vehicles for these studies and he led the first team of scientists trained as submersible pilots for research in midwater. As pilot or observer, Robison has spent a good portion of his career in deep water, aboard more than a dozen different submersibles. At MBARI, his research team has focused on the development of remotely operated vehicles as research platforms for deep sea research.
Dr. Robison's midwater research program is presently addressing the ecology of gelatinous animals in the deep sea. This group includes ctenophores, medusae, and siphonophores, animals which cannot be investigated accurately with conventional sampling methods, but which play dominant roles in mesopelagic ecology. Related studies include trophic structure, physiology, and the behavior of midwater animals including fishes and squids. Behavioral studies are also investigating the ways that animals use bioluminescence in the deep sea, with both laboratory and in-situ observations.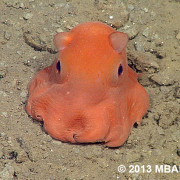 Stephanie Bush is working with the Monterey Bay Aquarium on their exhibit "Tentacles: The Lives of Octopuses, Cuttlefishes, and Squid", that opened in April 2014.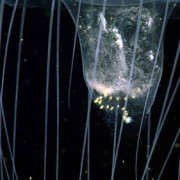 The goal of the food web research is to further describe the complex structure and functioning of the deep sea food web off Central California, with a primary focus on the role of understudied midwater animals.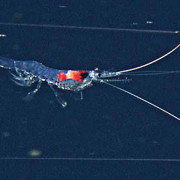 The oxygen content of the entire world ocean is falling. To investigate the consequences of this largescale change, MBARI scientists are exploring a characteristic attribute of the oceanic water column in Monterey Bay called the oxygen minimum zone (OMZ).