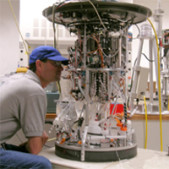 The variety of jobs at MBARI provides a good sampling of the wide array of careers available in the world of marine science and engineering. MBARI's staff is comprised of a variety of professionals including administrators, technicians, researchers, scientists, and engineers. Our employees have diverse backgrounds and passions, but all share an interest in the ocean and its health. Oceanography is a broad discipline, encompassing an array of scientific fields. MBARI's scientific staff includes biologists, chemists, and geologists, amongst others. The institute's electrical, mechanical, and software engineers and technicians are engaged in some of the most innovative work in marine technology today.
Science and engineering careers are not the only ways to contribute to the research and protection of the ocean. The institute relies on a comprehensive marine operations group to maintain and operate all of our seagoing vessels and equipment. Skilled accountants, administrators, and human resources professionals coordinate the complex operations of a not-for-profit research institute. MBARI research is complemented by a staff dedicated to the effective dissemination of MBARI information and technology, as well as information systems and facilities teams that maintain a campus with unique structural and technical demands.
Following are brief descriptions of some of these career areas as well as links to interviews with MBARI staff describing their interests, responsibilities, and career paths.
Science:
MBARI scientists are dedicated to improving scientific understanding of ocean physics, biology, chemistry, and geology. Much of their effort involves collaborations with MBARI engineers, with the aim of developing new tools, systems, and approaches for studying and exploring the deep sea.

Engineering:
MBARI focuses on applying the latest technologies towards answering today's top ocean science and engineering questions. Due to the harsh nature of working in the deep ocean these technologies are frequently based in remotely operated or autonomous robotics and instruments. The scale of these projects varies from small battery-operated handheld devices to seagoing support ships. MBARI's engineering group is comprised of engineers and technicians from all disciplines, often with special training in specific topics, such as hydrodynamics.
Human Resources/Environmental Health and Safety:
Human Resources at MBARI manages and ensures compliance with respect to employment, employee relations, compensation, and benefits. Environmental Health and Safety ensures the safe working conditions of employees and maintains legal compliance with state and federal governmental agencies.
Accounting and Grants Administration:
As with most organizations, financial functions at MBARI include purchasing, accounts payable, payroll administration, shipping and receiving, and budget oversight. MBARI's Grants Office manages research grants entered into with other agencies and organizations.
Operations: 
Operations at MBARI includes several departments. Project Coordination oversees the internal and external project proposal process and ensures physical and staff resources are properly allocated. Information Services provides institute-wide management and support of MBARI's computer systems including hardware/software, electronic mail systems, electronic databases, and other services. Facilities management ensures a safe and well-maintained workplace.
Video Lab:
The primary charge of the video staff is the scientific analysis of underwater deep-sea video observations. Logging approximately 300 deep-sea dives per year, MBARI's remotely operated vehicles (ROVs) record valuable high-definition (HD) video observations of the water column and seafloor communities. The Video Annotation and Reference System (VARS) is used to log observations of animal identifications, behaviors, and interactions as well as geological features on the seafloor and experimental methodology. Data of interest can then be retrieved using the VARS Query component; currently over 3.7 million individual observations have been logged.
Communications and publications:
MBARI's communications staff works with journalists, video production groups, and other media professionals who wish to obtain information and images related to MBARI and its research. The staff also prepares news releases and articles about MBARI research for the MBARI web site. Editorial and publications staff make information about MBARI available through various print projects and the institute's web site. All staff who work in communication and publications do a fair amount of writing, editing, and design work, as well as editing photos, video, and audio files.
Education:
MBARI's educational mission is to build upon our unique strengths in science and technology to provide advanced knowledge and understanding of the ocean. To that end, MBARI's Education Research Specialist coordinates a 10-week summer internship program, a long-term teacher workshop program in conjunction with the Monterey Bay Aquarium, and a high school student mentoring program.
Research ships:
MBARI has a dedicated marine operations group with responsibility for the operation and maintenance of three research vessels: R/V Western Flyer, R/V Point Lobos, and R/V Zephyr. The ships' crews include masters, first and second mates, engineers, bosuns, and deckhands.
ROVs and AUVs:
MBARI operates two remotely operated vehicles, ROV Doc Ricketts—supported by R/V Western Flyer— and ROV Ventana—supported by R/V Point Lobos. ROVs are operated and maintained by a team of pilots and technicians. MBARI also deploys several autonomous underwater vehicles (AUVs), whose development, maintenance, and deployment requires the collaborative effort of a team of mechanical, electrical, and software engineers and technicians.
Applications are NO LONGER being accepted for the 2016 Monterey Bay Aquarium Research Institute's summer internship program. Please check back at the end of 2016 for information about the 2017 program. This 10-week program provides an opportunity for talented college students (undergraduate and graduate) and educators to come to work on a specific project under MBARI staff supervision.
Potential intern projects and mentors for 2016