EARTH 2017 – Participants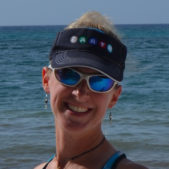 Katrina Alegado teaches Science and Leadership at Summit Trail Middle School in Maple Valley, Washington. She received her Bachelor of Science degree from Oregon State University and a Masters from Willamette University. She recently finished her fifteenth year of teaching and has taught all grades 5-9. This is her sixth EARTH Workshop and real-time science education is her passion.
---
My name is Cathy McBride. I've been teaching science for students in 5th and 6th grade at the Long Beach Island School District in Ship Bottom, New Jersey for the past 10 years. With a Bachelor of Science degree in Marine Science, I am passionate about teaching all aspects of environmental science including marine ecosystems, geology, and meteorology.
---
Educating for over 14 years, Stacey Sebert teaches middle school Physical and Earth Science to 7th and 8th graders. Sebert coaches Kid Wind Competitions and instructs at Camp Invention.  Stacey's certified by DEC, running Project WILD, Project WILD Aquatic, and Project WET workshops. Sebert is a member of NSTA, STANYS, NJSTA, a Maitland Simmons Award winner, and a Master Teacher.
---
Alia Thompson is currently a doctoral student at Syracuse University in science education. Her experience spans from curriculum design and teaching middle school science to coaching volleyball and making short videos.  She is interested in augmented reality, interactive storytelling, place-based and cultural ways of knowing and doing science.  Now that she lives in Syracuse and not Oahu, her normal ocean hobbies have been put on the back burner to make way for learning 3-D design software and making clay sculptures.
---